Menu
Contact
Donate Now
Testimonials
"Dear CREC Foundation: Thank you so much for this extraordinary scholarship. It really gives me the boost I need to appreciate everything I have been through as a blessing in disguise and that all of the hard work I do to remain the true strong student I is worth everything. I am so honored that I am able to receive this award. It will help me further my education as a primary teacher and help me be encouraged to keep going. Thank you so much for this opportunity and this amazing scholarship. A lot of adversities have come my way, but knowing that all of the hard work of pushing through no matter what has payed off touches my heart sincerely. Thank you for this honor."
- Brianna Tribble-Bryant
CREC Metropolitan Learning Center
2016 Recipient
Bruce E. Douglas Scholarship for Overcoming Adversity
The Bruce E. Douglas Scholarship for Overcoming Adversity is awarded to a deserving CREC region high school senior who is enrolled in a two or four year college for the upcoming year. This scholarship is renewable for up to four years of undergraduate study and must be used within six years.
Timeline
Below is the timeline for interested applicants to plan the submission of their application to the Bruce E. Douglas Scholarship for Overcoming Adversity as well as key dates when eligible applicants will be notified:
| | |
| --- | --- |
| April 2, 2024 | Applications must be completed and received by this date to be considered for the scholarship. |
| Mid April | Applications are reviewed by the Scholarship Committee. |
| Early May | Email notification is sent to scholarship recipients' email addresses |
Applicants must meet the following criteria:
Graduating high school senior at a public or alternative high school located in a CREC Member District (towns listed below).
Enrolled in a two or four year college in the fall.
Submit application form and 500 word essay.
CREC Member Districts and Eligible Towns
· Avon*
· Berlin*
· Bloomfield
· Bolton*
· Bristol
· Burlington
· Canton*
· Cromwell*
· East Granby*
· East Hartford
· East Windsor*
· Ellington*
· Enfield*
· Farmington*
· Glastonbury*
· Granby*
· Hartford*
· Hartland
· Harwinton
· Manchester
· New Britain
· New Hartford
· Newington*
· Plainville*

· Portland*
· Rocky Hill*
· Simsbury*
· Somers*
· Southington*
· South Windsor*
· Suffield*
· Vernon*
· West Hartford*
· Wethersfield*
· Windsor
· Windsor Locks*
* Hartford Region Open Choice Program Partnering Districts
Essay requirements
In no more than 500 words please describe a difficult situation that you overcame to accomplish a life goal. Please demonstrate to the reader how your struggle to overcome adversity has defined your personal growth. Then, describe how you will use your higher education to help transform your community.
Awards
A scholarship committee will review the essays in April and grant awards to recipients in May. Awards are renewed annually up to four years provided student maintains enrollment status.
The 2023 Recipients
Jalen Artis
Hall High School (West Hartford), Hartford Region Open Choice Program
Attending Clark Atlanta University, majoring in Computer Science
Tristan Davis
Windsor High School
Attending Hampton University, majoring in Music Education
Holly Gottmann
CREC Greater Hartford Academy of the Arts Full Day
Attending Southern Connecticut State University, majoring in Psychology
Nathaniel Rosario
CREC Academy of Aerospace and Engineering
Attending the University of Connecticut, major to be determined
Ria Saxena
South Windsor High School
Attending George Washington University, majoring in Economics
About Bruce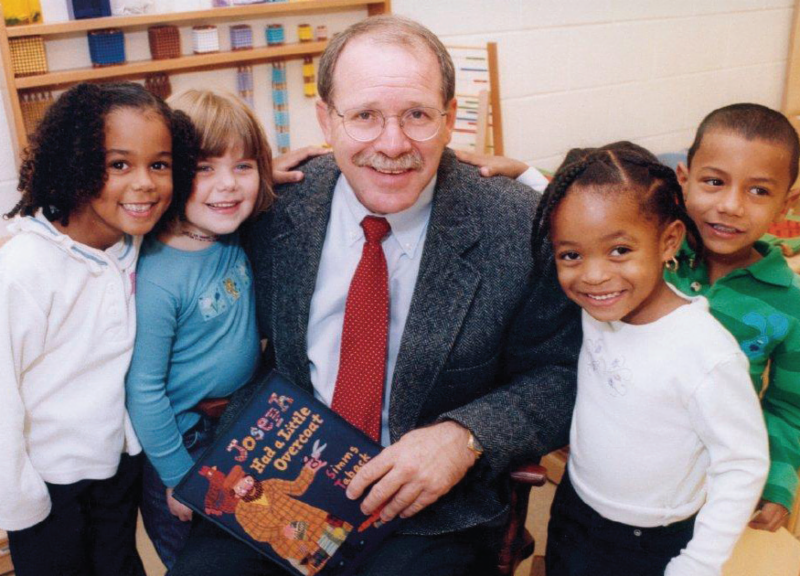 Bruce E. Douglas, Ph.D., has dedicated nearly 50 years to educating Connecticut's children and families, and served as CREC's executive director from 2001 to 2015.
Bruce began his career as a social sciences and history teacher, coach, and school administrator for Bloomfield Public Schools. He later served as superintendent of Suffield Public Schools before arriving at CREC in 1998 as the agency's assistant executive director.
Bruce's transformative leadership, divergent thinking, and inspirational mentorship have shaped the educational and social landscape of Connecticut and improved the future for Connecticut's children.
Bruce is a relentless social justice advocate for the disadvantaged and disenfranchised. He led CREC to adopt a culture of serving the best interests of children and families in Connecticut's capitol region, and developed policy and legislation that drove public education to the forefront of the Connecticut General Assembly's agenda each year. Bruce works tirelessly to eliminate the local, national, and global achievement gaps and to ensure that every child receives a world-class public education.